My favorite records of… July-August 11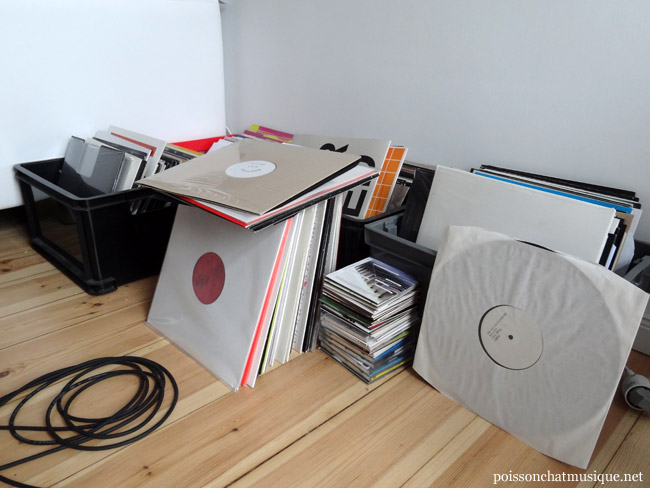 Some tracks and records I've played a lot during July-August and which are linked to emotional or intimate feelings.
Lerosa – Horizons (Uzuri)
I didn't know about that but despite its Italian sounding (and Leopoldo Rosa was born in Rome, and now based in Dublin) an amanatto is a Japanese confectionery. So, this album is a pretty sweet cookie and Horizons is my favorite one here. I can't say I'm a huge fan of all his prods, but he often makes good job like on his previous tape-album for Further Records and I also remember an unusual track from him (more techno and weird) on a split ep for Ostgut Ton few years ago. Pretty dense, warm, deep detroit-house rooted, I like Horizons for all these reasons. It's really sweet and soft, not that happy but with a subtle touch of melancholy : definitely the kind of track you can play for putting a good atmosphere in the room with character.
Dj Rum – Turiya (2nd Drop Records)
Wow. What a good track. Very cinematic with wonderful pads. I've never been really deep into the english genres like UK Garage / Drum'n'Bass / 2-Step / Dubstep / Grime, and now Future Soul / Neo UK Garage, whatever they labeled themselves. But from time to time I like to pick up some music from this island and what I prefer is when the style is close to what Hard Wax names "techno or house compatible". Hummmm ! Of course what I like the most here are the ambiances (remember me The Cinematic Orchestra during the intro and the outro), the sampled UKG voice is pretty ok, there are no crazy FX's or "speediness" (it's more about a "quiet force"), the rhythm is humble and delivers a typical impulse all along Turiya. Very fresh, lovely, and dreamy. Why do you want to expect more ?
Music Institute 20th Anniversary – Pt 3 Of 3 (NDATL)
First, this trilogy of eps is gorgeous, thanks to Kai Alcé on his NDATL imprint to put all these jewels on wax for our pleasure. Here on a pink marbled vinyl we have a nice melodic-303-electro-edit of Alexander Robotnick's big 80's hit Problèmes d'Amour by KDJ. Forget about the long and expensive version on an other record, the short one here is perfect. A real crazy and funny track. But my favorite one is the last track ("untitled"). "Street life, street life, ###, chocolate, chocolate" what the fuck the singer is singing, it's soooo sweet ! Lollipops melodies, warm groove, perfect execution, dreamy romantic pale-colored detroit-house at its best : well, I LOVE it.
Vince Watson – Signals (Headspace Recordings)
I've discovered this track during a nocturnal listening session of the excellent Laurent Garnier's PBB webradio. It is really magical. It starts like a harsh situation like if someone was gimp or wounded with some problems to walk (it is what the rhythm makes me think) and then you start to hear this incredible wave which arrives very slowly, like sun-rays breaking the night during an early summer morning. The progression of Signals is so great, so shinny and powerful. You feel so healthy after having listened to it, like a medicine really. Thank you Dr Watson !
2 AM FM – Desolate cities (MOS Deep)
Aciiiid ! Very very strong track by James T. Cotton and D'Marc Cantu. There are plenty of acid tracks which are really boring or just average, but this one breaks the wall. It's all about analog old-school production in the spirit of the house of Chicago back in the days ; very raw, dark and dirty. The vocals are very funny too, second-degree low-voice with a big cave-reverb and weird (tape-delay ?) effects. I also like the strings-synth line which add an other dimension here : from the warehouse basement of a rough, wet and extremely dark gay club, an illumination appears in your mind and the Truth is abruptly but finally revealed to yourself. Something very sexual and spiritual at the same time : one of the strongest combination you can find in dance-music. Enjoy the experience…
Steve Oh – Work dat shit (Soul People Music)
Oh oh oh, Steve… what have you done here ?? I love this track. it's typically this kind of new NY-house, minimal, analogue-synths/drum-machines-rooted, with a weird groovy-groove. I didn't know Steeve Oh before, it's his first track released on vinyl for the excellent label of the great Fred P, Soul People Music. I like the naive melody in the strange deep mood, and these vocals "work dat shit" he repeats like a street slang mantra. A very good moment.
Axel Bauer – Cargo (Disques Vogue)
Axel Bauer is a french singer who is mostly known to have release this big hit (top charted) during the 80's (1983). The story is about a sailor who hasn't seen the earth since 35 days, and who re-discovers the joy and pleasures of life during a nocturnal stop, maybe somewhere in North of Africa. The atmosphere and chorus are very obsessive like what a sailor can think again and again during his long sea-trips. The lyrics are very poetic and a bit obscure. Sound sooo 80's but the very good side of this period. The b&w video-clip is also beautiful (specially for the beginning of the 80's), very classy, subtly erotic, and remains timeless.
Basic Soul Unit – Soulspeak – Shed remix (Dolly)
I have to admit that the first time I've heard the samples of that ep on Clone.nl, I was a bit blown away by Shed's remix. Whoooch ! Dark industrial raw techno, harsh and quite banging (but not so speed), typically the atmosphere you like to hear in an industrial place like Berghain. And suddenly this pad which emerges from nowhere, very deep, nocturnal, spiritual (yes again…), and boom the kick with its sub-bass arrives and entirely destroys yourself. The contrast of these two atmospheres is really fucking good and matches perfectly. It brings the track to an other level of mind-elevation and body-dancing. Definitely one of my few techno highlights of 2011. (By the way, I've not taken time to listen to the other tracks of that ep, but it seems they are really great too.)
ADNY – Never leave you (Turbo)
Yes it's not very new but it's sound so fresh and still so lovely. I have discovered this piece on a cd-compilation in July 2000. It was an ok track for me at that time but not really paid attention that much… until I re-discover it exactly eleven years later (and bought it on vinyl). I love everything on it, it's like a summer late-night anthem. Very deep, very loving : "I'll never leave you baby, because you drive me crazy…". But it's not like these easy-shit teenage house pseudo love-songs : there is something more here, more maturity, sounds like for the singer that love is a serious business and he's now aware about it. The pads are very smooth and classy, the drums are well-balanced, the loopy-bells are a bit strange but I don't explain why, it just works. I could hear that song to death. I'll definitely never leave it from my collection…

Pablo Fierro – Nights in harlem (Elevation Recordings)
Another track discovered on PBB (the audio has also been ripped from there). Beautiful, beautiful… Electronic jazz a bit a la Aqua Bassino (piano + trumpet), and then it turns quite surprisingly to Cuba and salsa. A lot of great emotions inside, perfect to keep the smile. A shame that this track has only been released on a fucking anonymous mp3 VA… Thank you to Mr Garnier to play it quite often on PBB, because it really deserves to be known. "Close your eyes, take my hand (…) follow me baby…".

Poisson Chat
Subscribe to the newsletter to not miss any posts

 

here
Buy vinyl records in the

 

Shop Musique
PayWhatYouWant to get PCM05comp / PCM06 digitally on

 

Bandcamp