PCM01 – Cut at Dubplates & Mastering (video)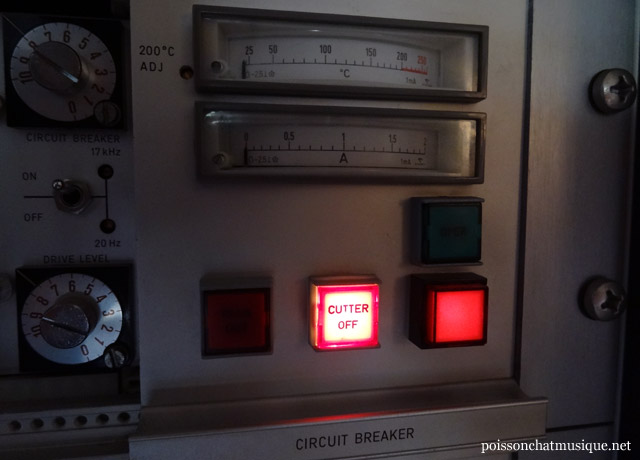 In July 2010, I went to Dubplates & Mastering in Berlin to make the mastering and the cut of Une nuit américaine (PCM01). Thanks to Roger 23, I met and worked with mastering engineer and sound cutter Lupo, who is an old friend of him.
For those who don't know Dubplates & Mastering, it's like the Abbey Road of electronic music. Back in the days, techno myths Basic Channel have created this studio in the neighbourhood of Kreuzberg in 1995, located next door to the famous record shop Hard Wax, where Mark Ernestus (one of the two members of Basic Channel with Moritz Von Oswald) was, and is still, the boss.
The studio has also built its reputation thanks to an amazing mastering engineer and sound cutter (and beyond) who used to work there between 1996 and 1998, Sir Robert Henke aka Monolake.
Plenty of electronic music albums, ep's, cd's, have been cut there, because it's synonym of high-quality. However, it's not cheap, but you know what you pay for : the equipment used and the savoir-faire of the great engineers. I mean, a record is made for eternity (well, it will live during your life, and after your death for few generations at least), so it's important the final product be perfect. A lot of people will listen to this music (I hope ! ;-), and it needs to sound the best when played as well on a big and precise sound-system of a club, as in your living room. It's very important everybody could reach a maximum of pleasure when listening to the music.
What I also like with Andreas (aka Lupo), is to assist to the mastering sessions, and talk with him about a lot of aspects of his work. Of course, not about what he does when he turn the knobs of the strange big machines to improve the sound (because I'm not an engineer, I know shit about – the real – technical stuff, and remember, studio time cost money !!), but I like to learn about the specifications of the vinyl, and its transcription from the audio on the computer to the lacquer disc, to the vinyl. For example, he can say "hum the high-hats are pretty good when you listen to it straight to the source, but they will sound a bit sharp on vinyl, so I will make them a bit more smooth for it sounds perfect on vinyl". Or when he explains why this track should be cut in 33 RPM and not in 45 RPM, for questions about bass frequencies, space, and stuff. This is really interesting, I love that (unlike when you burn a cd, you don't see the process, you can't change anything, it's cold, there is no story… and what to say about mp3's…).
So, I filmed some stuff with my former cam/recorder (it was not the HD trend when I bought it three years ago), made a modest editing, and uploaded it on Youtube. It's about the cut, and the birth of a vinyl record. Believe me, when it's YOUR first record, it means something.

Poisson Chat
Subscribe to the newsletter to not miss any 
 posts

 

here
Or follow the Facebook page
Buy vinyl records in the

 

Shop Musique
Find out more music on

 

Bandcamp