My favorite records of… March 12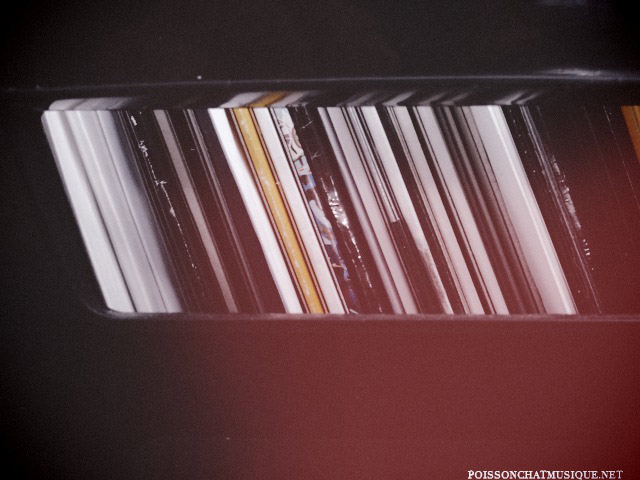 Some tracks and records I've played a lot during March and which are linked to emotional or intimate feelings.

Neud Photo – Simulations (Pylon Records)
This is the USO of the moment (unidentified sound object). Between synth-wave, italo, and electro. Sweet weird candies from outer space, and unexpected journeys into the 4th dimension. I really love it. 200 copies only !


Polar Inertia – Indirect light (Dement3d)
Real good techno from France ! Finally something fresh from the hexagon, from the young generation (in the like of Marcelus). This record (A2 and B – the ones I like) is about mothered abyssal techno with deep-dark lights and an industrial touch. Like a diver who explores a dead boat inside the deepness of an ocean. Very nice job. One of the very rare – new – techno records I've bought for one year, and that I really enjoy to dive in each time.


Conforce – 24 – Gesloten Cirkel remix (Clone Basement Series)
Baoom. Another blast from the mystery man. I'm talking about Gesloten Cirkel('s remix) of course. Analog jam executed in a really really good way. Live feeling, and strong sensation(s). Wow, this track is not only banging (in the best way), but also very sensitive with its melodies a bit broken and down. Killer drum kicks, superb melancholic mood, infinite, and raw, raw, raw. Yes, more of this techno cirkel please !


Mutant Beat Dance – Another World (Rong Music)
Another World, the main track, was a real secret weapon (before Phil Sherburne talks about it recently on Resident Advisor). Retro-advanced and experimental house weirdness. When we look at the credit notes, we understand why : dj Traxx is part of the game ! What I really like is the last minute. When the deep breath appears. I wanted it lasts a bit more, but, that's a part of the spirit of this record. It's definitely not an average song, maybe a bit too weird for the young listeners, but don't care about it. Just play it, and "feel the groove".


Break SL – Desert flight (Uncanny Valley)
Each new record from Break SL (or C-Beams) is a good surprise. Every time. He never tries to sound in a certain style, in certain period, no, he just makes old-school (for the warm, positive vibes, and analog jam) and new-school (a lot of experimentations and fresh combinations of sounds and arrangements) house music. For me, he is one of the most underrated producers, maybe because his tracks require more attention and listens than other "average" house records (because he doesn't sound like anybody else). I'm a big fan of him since his track "Witness" (which in fact is "Be strong" due to a mistake from the label…). Here is a new stunning moment with Desert flight, which could be the house version of Audion's Just fuckin' : hypno-dumb-kill-slow-crashed-UFO. Amorphed limits (feat. Manuel Sander) is also very nice ! Check !


Legowelt – North sea spectrum (Signals)
At the moment Legowelt (and his numerous alias) keeps the level very high ; each month you have new cookies from him, and they are always at least good or excellent. Skip A and go directly to the B-side. "Hey what time is it ?" a guy who seems to come from a Super Nintendo video game says. Classic Legowelt prod, in the bright and very groovy vein (no obscure stuff here). Old-school lo-fi analog rhythms and melodic synths. B2 is a melancholic one which sends you really far away. Deep, deep inside ! Thank you for all the good work man.


Sistol – Keno – Mike Huckaby Synth Remix (Slice of Life)
Slice of Life is a new (vinyl only ?) label managed by Sefan Betke aka Pole. So, we can expect some experimentations and a friendly taste for the dubby sound. I've checked the first one and the third one (by Baaz) but not my thing. BUT, this one is really strong with Mike Huckaby's remix of Sistol track (aka Vladislav Delay). Buy it as soon as you can cause it will become a kind of classic of the genre. The production, the sound, the arrangement are perfect. Very deep-dub hypnotic, progressive, minimal-powerful but with an underground attitude. Any way, you can't be wrong with Huckaby's prods (whether if it's house or dub-techno).


Orpheus – Path from Hades (Sequencias)
Interesting neo-retro stuff now. Orpheus is a guy who has produced a lot under different pseudonyms. I really need to check out his other prods. If they are as good as this record, hummmm ! Miam miam ! The A track is an electro-acidic and drum machines jams before a deep wave appears and unveils a nice hi mono-bass and very charming melody "toum toum toum-toum toudou-dou ti toum". Very sweet, and free like a lightly improvisation on a sunny Saturday afternoon. The two other tracks on the B-side are much more dark. I play more the first of them. Same spirit at the beginning that the previous one, abstract acid & drums jam for a while, before a disturbing old string-synth appears, and adds a high frequency melody. It's dark-soft but charming. A bit more in Legowelt style. One of the good surprises of the beginning of 2012.
[audio:http://poissonchatmusique.net/wp-content/uploads/2012/04/Hotmix_Records_Labels_A2.mp3]
Kurt Baggaley – Tractor beam (Hotmix)
Perfect track which announces the end of the set / party. Very deep, a bit speed (I down-pitch it at -6%), you can really feel the fresh wind of the end of an afternoon at the beach, just before the sunset. Small melancholic waves of electro-italo hit the sand, you feel a bit nostalgic of the beautiful day you have spent there, you're a bit tired, and also a bit sad to have to leave the place now. It touches your heart in a way you don't expect. Very nice.


Shannon – My heart's divided (Emergency Records)
Classic electro-funk tune. Most of the people knows the "big hit" Let the music play, but I prefer this one. A bit more "light". I bought it for 2,50 € on Discogs (perfect condition), and I really don't regret it !! People, it's the crisis, you don't have so much money to buy vinyl ? Check out the second-hand stores and the flea-markets ! You can always find amazing stuff if you're a bit curious and you take time to dig the mater. It's long, hard, but sometimes you will be rewarded. Any way, I like this song very much, it's still so fresh and powerful (killer snare !), the production is not cheesy, it's clear, the voices are great, and it still stays a bit underground, so you can create a nice effect on the floor ! ("Hey what's this ??"). From 1984 : "Marty, prepare the Delorean, we go back to the future !"

Poisson Chat
Subscribe to the newsletter to not miss any posts here
Buy vinyl records in the Shop Musique
PayWhatYouWant to get PCM05comp / PCM06 digitally on Bandcamp